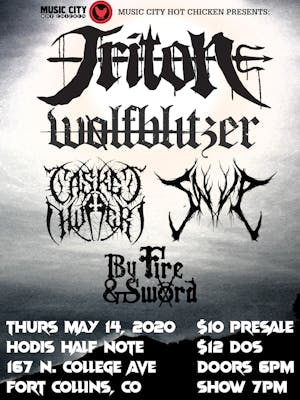 Presented by Music City Hot Chicken
Triton
Wolffblitzer, Saeva, By Fire & Sword
Presented by Music City Hot Chicken:Triton w/ Wolfblitzer, Saeva, and By Fire & Sword at Hodi's Half Note in Fort Collins, CO
Triton is a sludge metal/stoner doom band from Fort Collins, Colorado. In the year 2016, these warriors of riff began a dubious journey to summon forth the Guardians of Old and protect the Amplifiers Divine. Through a sludgy concoction of ancient rituals and arcane riffs, Triton continues to churn out supreme victory after supreme victory against the forces of lame tunes and bad feelies.
With influences spanning stoner, sludge, doom, death, and thrash; Triton has a strain of heavy duty for nearly everyone. They coined the term 'Seabeast Stoner Doom' to describe their sound and affinity for writing long, lumbering songs about beasts of the deep.
Triton stands stoic in front of an array of Orange amp stacks, armed with pedals, fog machines, and fans. They bring Melvillian vibes and wall shaking riffs to every venue that will have them. Triton is resin-encrusted heavy metal from the mountains. They are the proprietors of the Salt Water Bong, the keepers of the Cannabis Conch, and the protectors of the treasures of the deep lung hit. Worship at the altar and bang your head to the raucous rhythm of the brackish brine.
"When H.P. Lovecraft terrified the world with his short story The Call of Cthulhu back in 1928, one could scour the earth in search for a worthy soundtrack and still come up short. However, nearly a century later, deep beneath the layers of The Choice City's floppy hats and mandolins, Fort Collins' Triton has answered the call." - Nate Wilde for BandWagon Magazine
https://www.facebook.com/tritonbelow/
With support from Woldblitzer, Saeva, and By Fire & Sword
https://www.facebook.com/BltzrWolf/
saeva.bandcamp.com
byfireandsword.bandcamp.com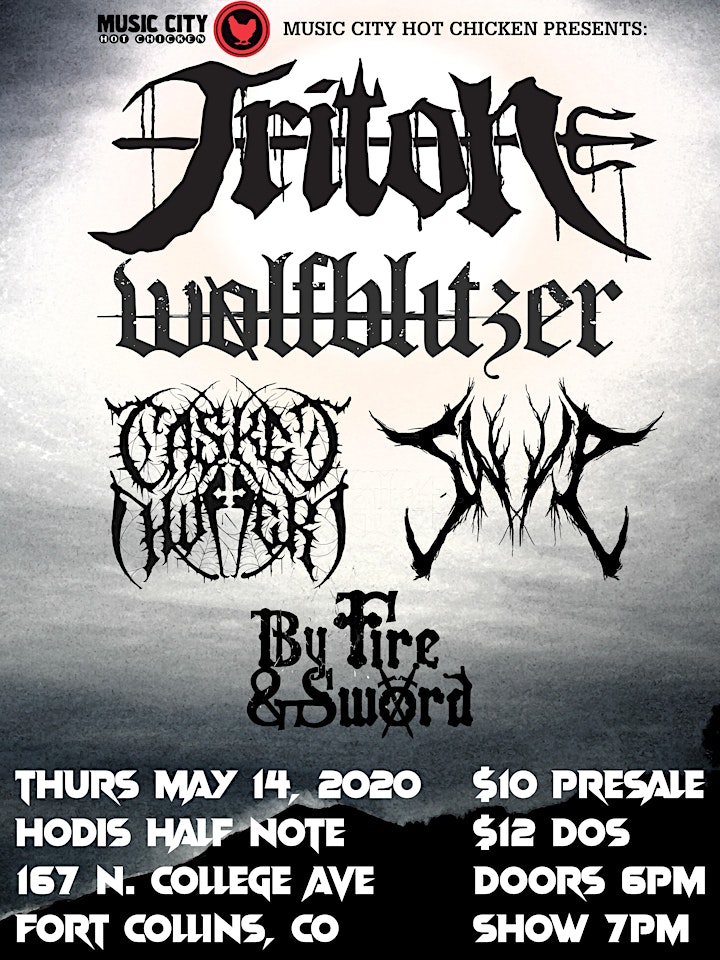 Venue Information:
Hodi's Half Note
167 N College Ave
Fort Collins, CO, 80524