Presented by Anchors Aweigh and Brother Scoo
Teenage Bottlerocket
Brendan Kelly, Bricheros
Anchors Aweigh Industries and Brother Scoo present Teenage Bottlerocket, Brendan Kelly (From The Lawrence Arms), & Bricheros Fri June 26th
$15 ADV / $18 DOS
8PM DOOR / 9PM SHOW
ALL AGES
FRIDAY JUNE 26TH -- RESCHEDULED FROM 3/28
Teenage Bottlerocket are a punk rock band who play in the tight, fast, funny, and frantic SoCal manner, even though they hail from Laramie, Wyoming rather than the Golden State. Teenage Bottlerocket were formed in 2000 by bassist and lead singer Ray Carlisle and drummer Brandon Carlisle, shortly after the breakup of their previous band, the Homeless Wonders. Adding guitarist Zach Doe, the band played out in 2001, and released its debut EP, A-Bomb, in 2002. Doe left Teenage Bottlerocket later that year, and they added a new guitarist, Joel Pattinson, who played on the band's first full-length album, 2003's Another Way. For 2005's Total, the group expanded to a four-piece with the addition of guitarist Kody Templeman, previously of the Lillingtons, whose sound had been an influence on the Carlisle brothers early on.
Arriving in 2008, Warning Device saw the band go through more personnel changes; Joel Pattinson left the lineup, Ray Carlisle moved from bass to guitar, and Miguel Chen took over on the four-string. Released in 2009, They Came from the Shadows was Teenage Bottlerocket's first album for well-established West Coast punk label Fat Wreck Chords; Fat Wreck also released 2012's Freak Out! The band moved to Rise Records for 2015's Tales from Wyoming; it proved to be Brandon Carlisle's last album with Teenage Bottlerocket, following his unexpected death on November 7, 2015 after falling into a coma. The group opted to remain a going concern following Brandon's passing, hiring new drummer Darren Chewka and returning to the Fat Wreck Chords fold to release 2017's Stealing the Covers (a collection of tunes written by other bands) as well as the accompanying single "Going Back to Wyo." In 2019, they returned with the full-length Stay Rad!https://teenagebottlerocket.com/
https://www.instagram.com/teenagebottlerocket/
https://soundcloud.com/teenagebottlerocket
https://open.spotify.com/artist/0mGyXXKzoR5KAAh4Mkef2W?si=tCNOWn-GSEG_3iO_yscHhA
Brendan Kelly is the bassist/vocalist of Chicago-based punk band The Lawrence Arms, as well as guitarist/lead vocalist in The Falcon and Brendan Kelly and the Wandering Birds. Kelly's former bands include Slapstick and The Broadways. He is known for his raspy vocals, drunken demeanor, and onstage witticisms. Also known as the original creator of viral twitter account Nihilist Arby's and its "absurdist, death-and-doom tweeting" about Arby's and life in general.
BRICHEROS - Denver Punks
https://bricheros.bandcamp.com/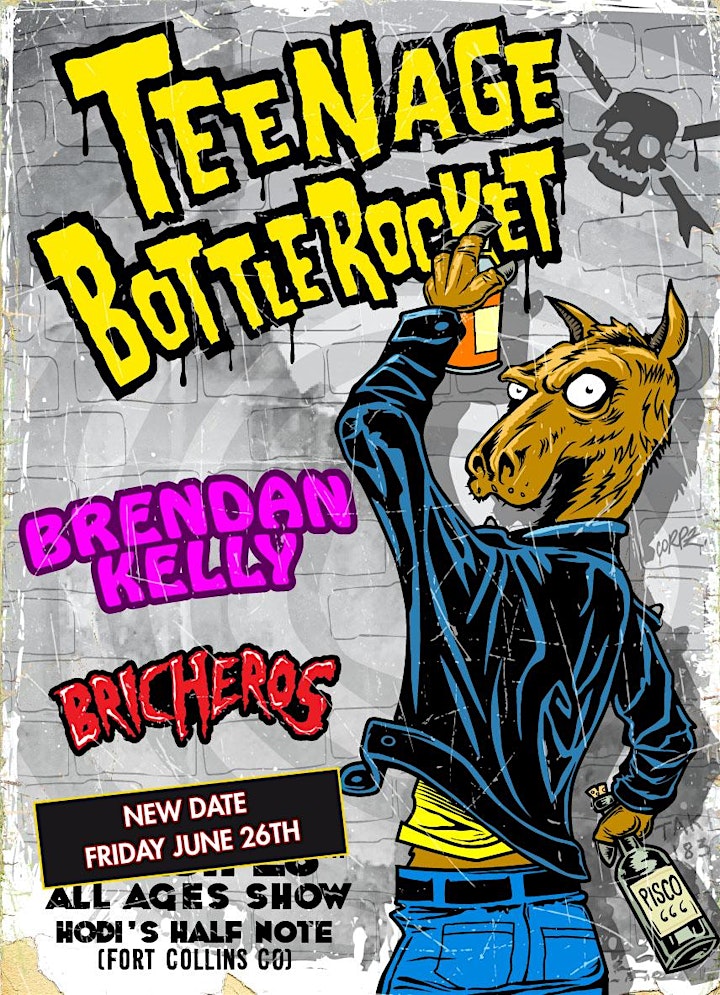 Venue Information:
Hodi's Half Note
167 N College Ave
Fort Collins, CO, 80524