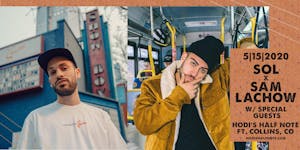 Sol x Sam Lachow w/ Special Guests in Ft Collins Friday May 15th at Hodi's Half Note
All Ages
8pm Doors// 9pm Show
$18 Advanced // $22 Day of Show
Tickets on sale Monday March 2nd 11am
Both Sol and Sam Lachow are two of hip-hop's most exciting and entertaining underground mainstays. With two distinguished solo careers under their respective belts, they've built loyal and proud followings from the ground up. Rocking shows and writing music true to themselves, they've continued to grow as artists and humans and now, the two emerald city emcees have teamed up for a co-headlining tour you don't want to miss!
---------------------------------
Even in the moments of critical acclaim, Sol has stayed true to his name and avoided the thirst trappings of fame. Prior to pre-teen sports teams and pubescent wet dreams he was in the recording studio getting carpool pickups at Midnight. He's not from the roughest part of the world's most glamorous city. He wasn't winning rap battles in front of bodegas. He was just a Haitian-American kid with musical melody at a molecular level and an ease about him in the presence of the opposite sex.
With age, he found his stage. There were some EPs that made the rounds, airplay on syndicated radio and a few festivals you might have heard of. But when the hand on Malcolm Gladwell's wristwatch struck 10,000 he became No. 1 on the US iTunes hip-hop chart. His independent release of "Yours Truly" clocked No. 4 on the hip-hop charts globally; his SoundCloud streams reached eight figures. All the while he was graduating college Magna Cum Laude despite spending more on reefer than textbooks. All of a sudden poof… he dipped to travel the world and left the industry executives going straight to voicemail.
He embarked on the prestigious Bonderman Fellowship in 2012 making moves to Ethiopia, Uganda, Tanzania, South Africa, India, Brazil, Colombia, Trinidad & Tobago, and back to Haiti with nothing but a carry-on bag. His passport has more stamps than a flight attendant for Turkish Airlines. Using the field notes on his continental drift as the recipe for his subsequent 2013 project "Eyes Open" and later building upon that effort for another full-length independent release: "The Headspace Traveler," in 2016 which included a 22-city U.S. tour. Before you could refresh your browser he was back in Haiti shooting film photos and wearing Japanese track pants you've never heard of, all while watching global football playing on satellite TVs. Then in 2019, he dropped back in to share the new album titled Soon Enough and touring across Europe for the first time.
https://www.solsays.com/
---------------------------------------
Sam Lachow is a producer, songwriter, rapper, videographer, director, and editor of video and music. Raised in both Seattle and New York City he's been making videos since elementary school, and as a seventh-grader began a group called Shankbone. Sam began directing and producing music videos with Shankbone, and went on to create videos for various other artists.
In 2011 Sam released his debut project as a solo artist, "Brand New Bike". Produced entirely by Sam, the album utilized many live instruments from musicians based in Seattle and New York. The next year Sam released 2 EP's, and produced/directed dozens of music videos from the projects on his YouTube channel, which now has over 7 million views.
After successfully raising 20K on Kickstarter in 2014, Sam's second full length album Huckleberry independently debuted #6 on iTunes Hip Hop. He then unexpectedly released a free project titled 80 Bars, which surpassed a million plays on Soundcloud for multiple songs. Riding that momentum Sam became the first local headliner to sell out Seattle's 1,000 cap Neptune Theater, co-headlined a 29 city national tour, and rocked the main stage at Washington's biggest music festival Sasquatch. Sam's latest EP Friends, Funk & Liquor debuted at #2 on iTunes Hip Hop top albums.
www.samlachow.com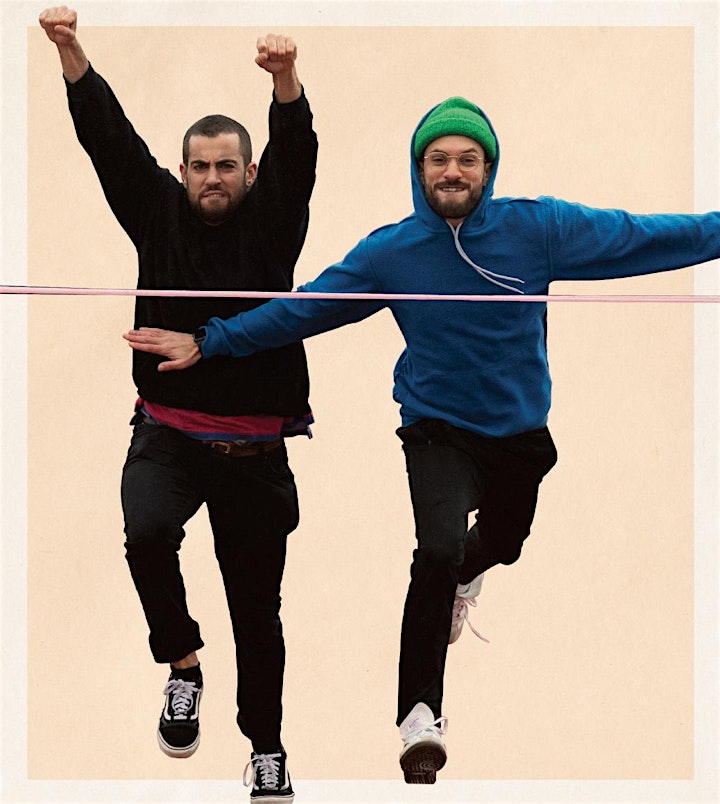 Venue Information:
Hodi's Half Note
167 N College Ave
Fort Collins, CO, 80524