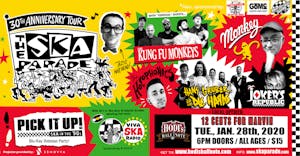 Ska Parade 30th Ann. Tour
Los Kung-Fu Monkeys
Monkey, Hans Gruber and the Diehards, The Holophonics, Jokers Republic
$15.00
Tickets At The Door
Ska Parade 30th Annv. Tour ft. Los Kung-fu Monkeys, Monkey, Hans Gruber and the Die Hards, the Holophonics, Jokers Republic
Ska Parade 30th Annv. Tour featuring:
Los Kung-fu Monkeys- It's 1997 when one of the most authentic and active ska/punk bands in the DIY scene is born, Los Kung Fu Monkeys; famous for their tireless non-stop touring, have shared the stage with The Addicts, NOFX, Misfits, Moby, Dropkick Murphys and more, gaining fans internationaly in The U.K., Mexico, Europe, Canada and of course the U.S. https://loskfm.bandcamp.com/
Monkey- MONKEY is a 5 piece high-energy organ driven, Ska/Reggae group from the SF Bay Area. Intense live shows and rock-steady rhythms not only get the crowds dancing, it has won the band several awards, including the prestigious California Music Award (BAMMIE)! MONKEY sets the pace for the local music scene. The band performs over 200 shows per year, while constantly recording and touring. http://www.monkeyska.com
Hans Gruber and the Die Hards - What happens when a guy who has the same name as the villain from Die Hard becomes roommates with a punk whose accomplishments include "bouncing around a mosh pit" and finding time to watch every episode of Street Sharks? They form a band, of course! Throw in a surprisingly coherent drummer (he was secretly a college Dean), a songwriting machine bassist with a liberal approach to fashion, manic hardcore tunes, some conspiracy-fueled paranoia, the occasional Harry Belafonte cover, and the result is Hans Gruber and the Die Hards! Originally formed in 2014, the band soon became known in the local Austin music scene for their breakneck speed performances and energetic front man TJ. The band put out their first EP on February 14, 2016, teaming up with Kepi Ghoulie of The Groovie Ghoulies to throw a release party dedicated to the end of the world (as predicted in Ghostbusters 2). They then embarked on their first journey beyond Texas for the Totally Jawsome Tour, spreading the Gospel of the Gruberites to dive bars and DIY clubs along the East Coast. http://hansgruberandthediehards.com
The Holophonics- What started in 2012 as a ska cover party band has since turned into an extreme implementation of the DIY lifestyle. Self-recorded and self-released, The Holophonics have amassed a discography of 13 albums of cover songs and 3 albums of original music. As a self-booked touring band, The Holophonics have relentlessly traveled North America playing hundreds of shows. Their latest album "Phantom Arrival" marks a new chapter for the band, shifting into more serious songwriting and progressing towards a version of ska punk fused with indie, math, and experimental elements. www.theholophonics.com
Jokers Republic- an up-and-coming Ska-Punk power trio from North NJ primarily influenced by the likes of Green Day, Reel Big Fish, and Streetlight Manifesto. Their debut EP "Anti-Social Media" is a record asks the tough, yet important questions in life like "Who are we?" "Why are we here?" and "Where in the world is Carmen Sandiego?" With Drummer Pat Elwood, Bassist Billy Smolen, and the afforementioned Austen Gray (who we believe to be a robot with bad syntax), the band puts on insanely fun high-energy shows the likes of which you've never seen (unless you frequent your local 24-Hour Walmart between the hours of 1-4 AM EST). http://jokersrepublic.com
12 Cents for Marvin - It's rare for a band to have a dramatic artistic impact and dedicated fan base over two decades. However, the eight-member group 12 Cents for Marvin has done just that, all within the college town of Fort Collins, Colorado. Better known as "12 Cents" by their fans, the band consists of talented, finely-tuned members that each supply a distinctive spark to their musical machine. Front man Tom Werge describes his gifted cohorts not just simply as a band, but more akin to a "close-knit family." Individually, each of the "cylinders" in "12 Cents" brings their dynamic passions and personality into the group's compositions and performances. The result is a high-grade blend of ska-infused pop, rock, and reggae. Their listeners are captivated and gravitate to their upbeat fun-filled groove. http://www.12cents.com
www.skaparade.com
Plus, showing clips of Pick It Up - Ska in the 90s film between the acts! If you love SKA! Go!
All Ages
$15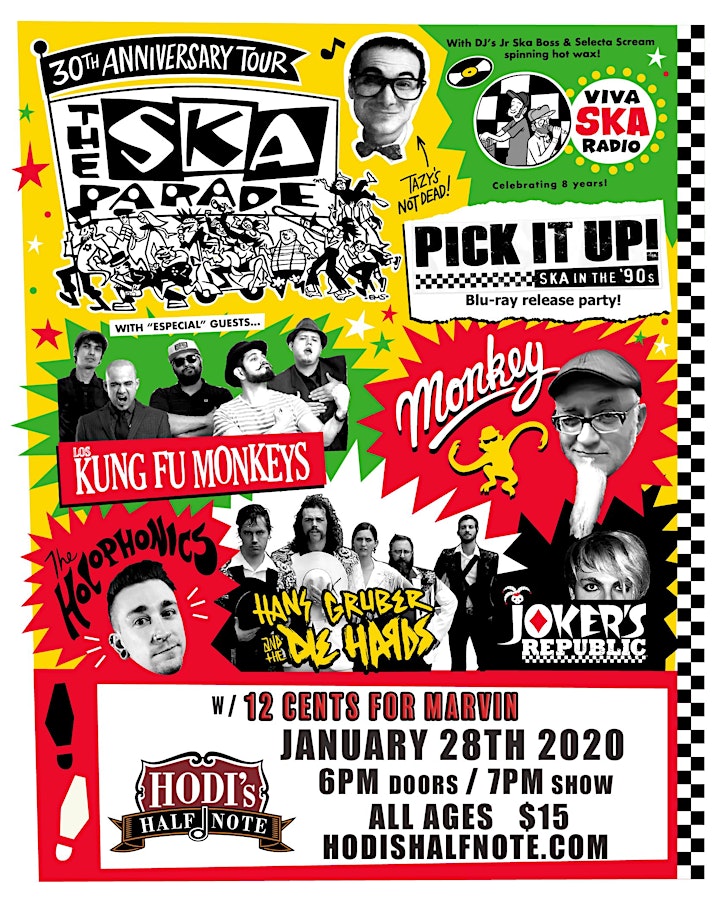 Venue Information:
Hodi's Half Note
167 N College Ave
Fort Collins, CO, 80524