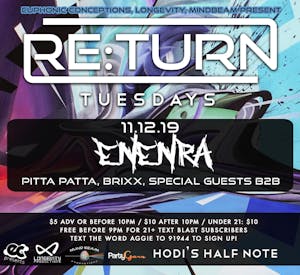 Euphonic Conceptions, Longevity & Mindbeam Productions, and Party Guru
Enenra
Pitta Patta, Brixx
$5.00
Tickets At The Door
Euphonic Conceptions, Longevity Productions, Mindbeam Productions and Party Guru present:
Re:Turn Tuesday featuring Enenra, Pitta Patta, Brixx, and Special Guests b2b
Mindbeam Productions -A donation based company that gives back 15% of its profits from events to the community. Specializing in professional visual effects and sound production.
Euphonic Conceptions- Since 2006, Euphonic Conceptions has been dedicated to putting on events featuring fresh directions in music and art. The goal is to develop, support, and sustain culture that can birth groundbreaking artists and allow them and the community they represent to flourish.
Longevity Productions- is a company that thrives to bring you the best acts and all around musical experiences they can provide. Working with people in the local Northern Colorado community to bring art of all styles together. We focus on artist booking, artist management, promotion, and event facilitation.
Party Guru Productions- Since 2010, Party Guru Productions has produced, presented, and promoted thousands of events, brands, and businesses of all shapes and sizes. Say hello and grab a handbill from one of the 100+ Party Guru promoters at every major event in Colorado and music festivals across the US featuring performances of every genre of music imaginable. From hip hop to jam bands, EDM to heavy metal, and everything in between, the Party Gurus are in the building.
Enenra -Fresh and familiar in the scene, and just getting off the Bliss vibe from the most recent BlissFall Music and Arts Festival, Enenra is back at Hodi's headlining for this installment of Re:Turn Tuesdays https://soundcloud.com/enenra420/tracks
Pitta Patta - Local and well respected in the scene with his hard style dubstep will take you on a plane of existence out of this world. https://soundcloud.com/pitta-patta/tracks
Brixx - BRIXX is an up and coming music producer/DJ based out of Denver. After attending his first electronic music show, being completely blown away by not only the music and production, but the experience itself and the vibes of the crowd. The amount of passion is limitless, as is his skill.
http://www.soundcloud.com/shittinbrixx
All Ages
$5 adv or before 10pm / $10 after 10pm / Under 21: $10 All Night /// Free before 9pm for text blast subscribers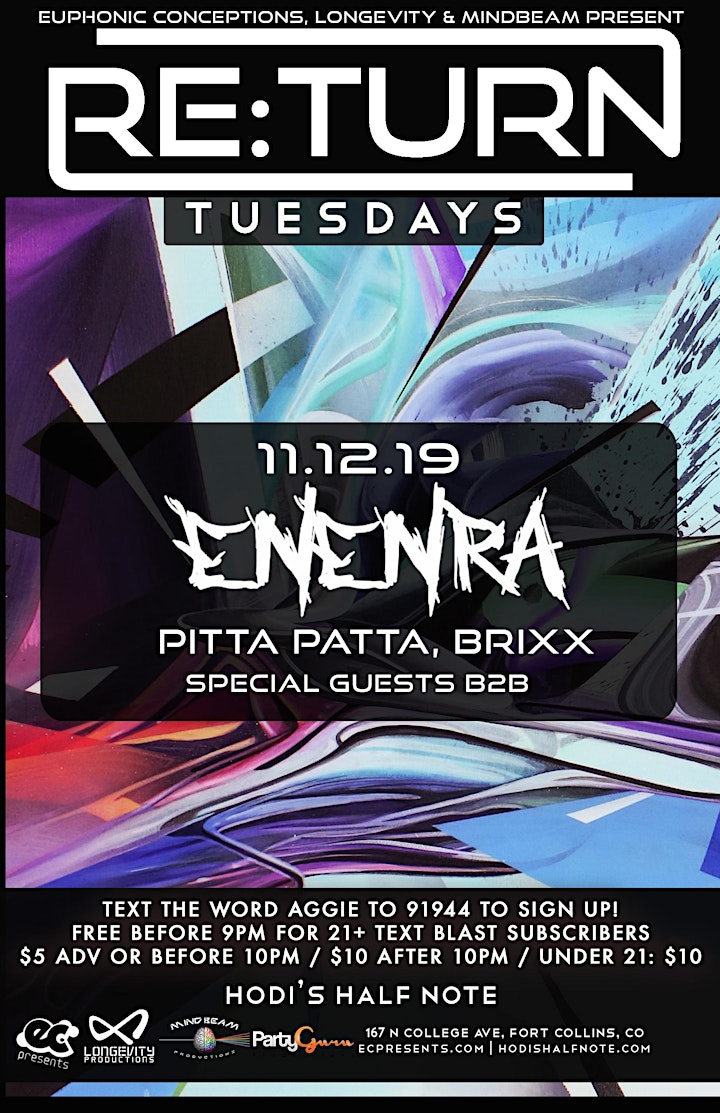 Venue Information:
Hodi's Half Note
167 N College Ave
Fort Collins, CO, 80524