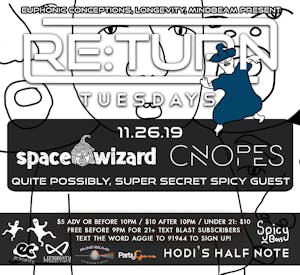 Euphonic Conceptions, Longevity, Mindbeam, and Party Guru Productions
Re:Turn Tuesdays
Space Wizard
Cnopes, Quite Possibly, QRLZ, Super Secret Spicy Guest
$5.00
Tickets At The Door
Another installment of Re:Turn Tuesday with Spicy Bois Takeover
Spicy Bois is a record label among many other elements, currently based out of Denver, CO and Chicago, IL. Owned and operated by Kevin Lee (alias MeSo) and Hunter Nott (no kay). Founded in May 2018, some of the music genres that the label claims are freeform bass, hybrid trap, and the undefined. Curating and creating a brand new listening experience, music that you can really taste.
Space Wizard:
https://www.facebook.com/spacewizardmusic/
https://soundcloud.com/space_wizard_music
https://twitter.com/space__wizard
https://www.instagram.com/space_wizard_music/?hl=en
Cnopes: Born in Chicago in 96'- His music stems from roots in Jam, Jazz, and Blues conveyed through Bass and Hip Hop
https://www.facebook.com/cnopes/
https://soundcloud.com/cnopes
Quite Possibly brings a variety of deep, sludgy bass sounds layered with bouncy Hip-Hop classics for a high energy, low frequency experience.
https://www.facebook.com/quitepossiblybeats/
https://soundcloud.com/quite-possibly
SUPER SECRET SPICY GUEST TO BE ANNOUNCED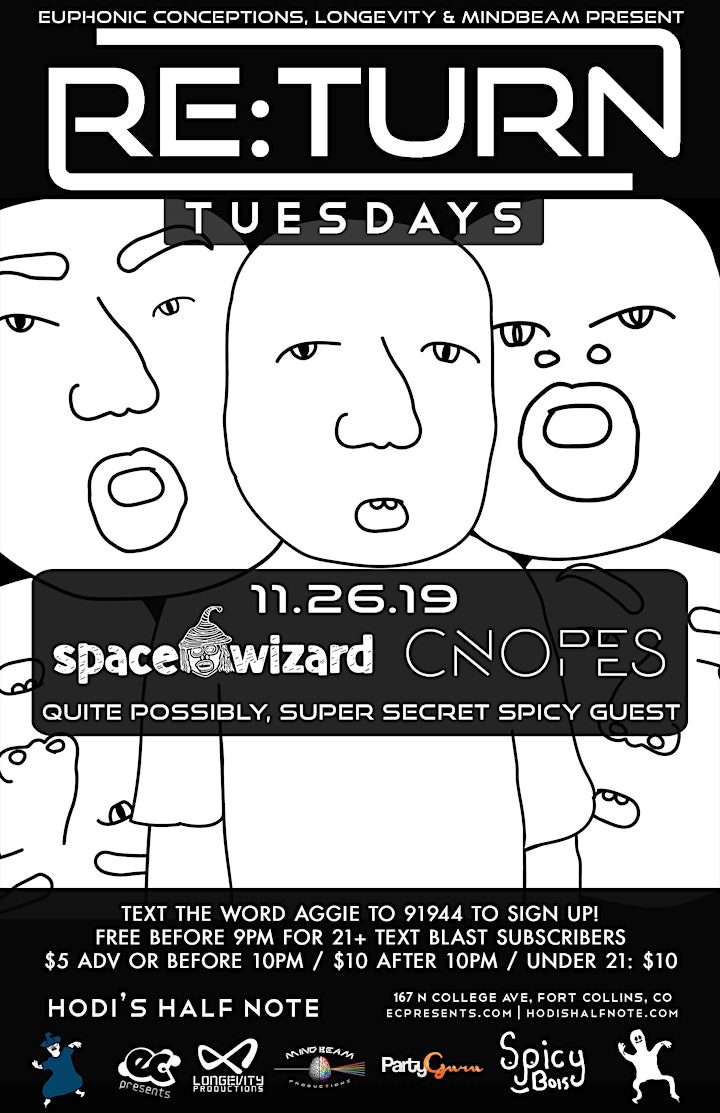 Venue Information:
Hodi's Half Note
167 N College Ave
Fort Collins, CO, 80524