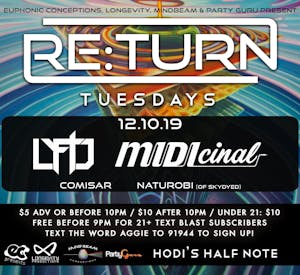 Euphonic Conceptions, Longevity, Mindbeam and Party Guru Productions
Re:Turn Tuesdays
Lyftd
MIDIcinal, Comisar, Naturobi
$5.00
Tickets At The Door
Re:Turn Tuesdays feat. Lyftd, MIDIcinal, Comisar, Naturobi (of Skydyed) at Hodi's Half Note
Presented by Euphonic Conceptions, Longevity Productions, Mindbeam Productions, and Party Guru Productions.
LYFTD has come bursting out of the thick Denver scene with its high-energy futuristic sound. And now with several nationwide festivals under their belts, including Electric Forest and Summer Camp, these funky mammals are ready to dive back into the Denver Scene and make a name for themselves in their home state. LYFTD is pushing new boundaries with their unique sound and delivering shows that resonate with all music lovers. Performances are a roller coaster of a ride with a main objective of getting the party people moving!
https://www.soundcloud.com/lyftd
https://www.facebook.com/LYFTD/
https://lyftdmusic.com
MIDIcinal is the electro-funk, hip hop, bass and soul music producer, Scott Rhatigan. Currently based in Denver, CO, Scott is constantly exploring new boundaries of his production. Often times including a drummer or a horns player during his live sets, you will find yourself moving to a mix of classic old school boom bap with a new age bass-funk twist.
MIDIcinal has quickly gained a respect and a following in Colorado, sharing the stage recently with acts such as Break Science, Late Night Radio, Russ Liquid, Chris Karns, Michal Menert, Blockhead, Thriftworks, Phutureprimitive, SuperVision and more! With plans to hit both the Midwest and the East Coast in 2019, it's advised that you keep an eye and an ear out for MIDIcinal as he pushes his limits to bring you what you need
https://soundcloud.com/midicinal
https://www.facebook.com/pg/MIDIcinalMusic/
Bass: the final frontier. These are the voyages of the starship Comisar. It's continuing mission: to explore funky new worlds, to seek out new rhythms and new oscillations, to boldly go where no one has gone before.
http://soundcloud.com/comisar
https://www.facebook.com/ComisarMusic/
ALL AGES
Doors 8pm//Show 830pm
$5 adv or before 10pm / $10 after 10pm / Under 21: $10 All Night /// Free before 9pm for text blast subscribers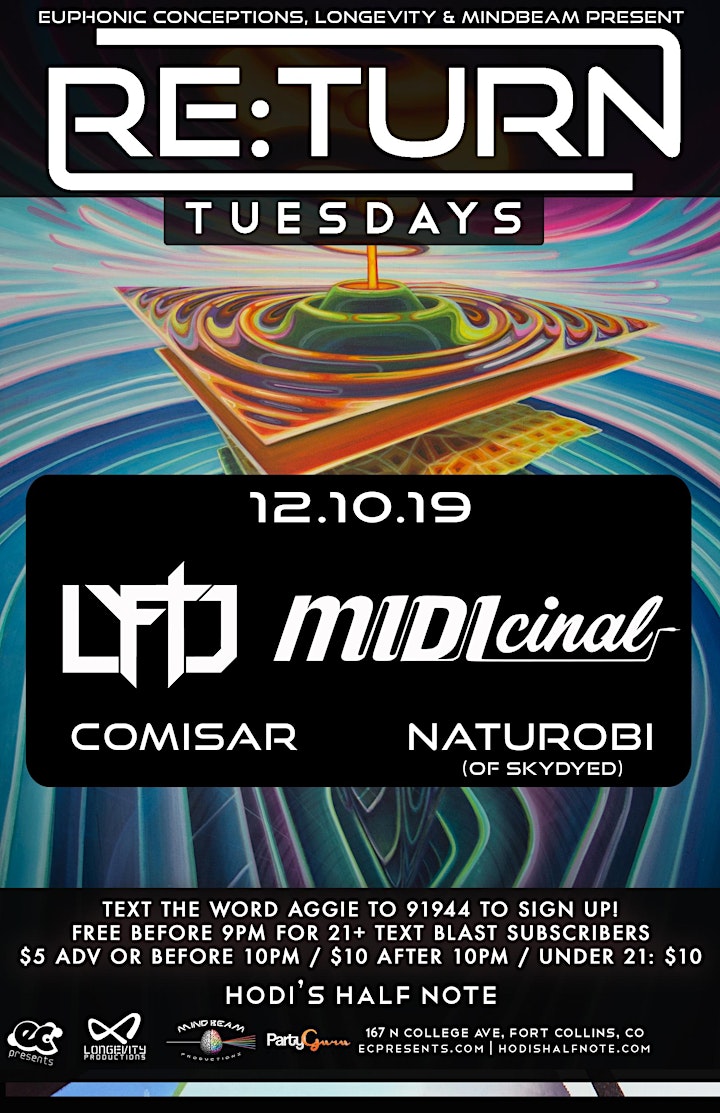 Venue Information:
Hodi's Half Note
167 N College Ave
Fort Collins, CO, 80524