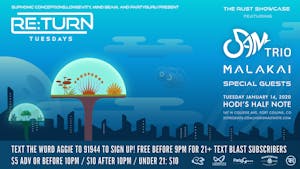 Euphonic Conceptions, Longevity, Mindbeam, and Party Guru Productions
5AM Trio
Malakai, Waxcat
$5.00
Tickets At The Door
Euphonic Conceptions, Longevity, Mindbeam, and Party Guru Productions presents:
Re:Turn Tuesday featuring 5AM Trio , MALAKAI & Waxcat - The Rust Showcase
5am is music for ears that are awake. Sam Andrus is a creative soul from Wilmington Delaware who is unafraid to delve into the endless possibilities of sound. Whether it's a beat whose swag is matched only by it's crystal clarity, an onomatopoeia in an alien language, or a saxophonic synth solo, 5AM is probably forging these together into a unique alchemical journey as we speak. His mastery over the frequency spectrum, the emotional spectrum, and the groove spectrum are of an other-worldly quality and will transport you to that other world. Specializing in a style of bass music that opens portals between the mystical jazz fusion and soul of the past and the digital psychedelic pulse of the future. He excels in crystal clear sound design, deep bass, and blissed-out melodies, living for those moments of transcendence when two musical ideas merge into something brand new. Those moments reach audiences through live sets using a custom Ableton DJ setup and live keys, taking the dance-floor on a one of a kind journey at every show.
https://soundcloud.com/5am-beats
https://www.facebook.com/5ammedia/
MALAKAI: The musical vision of Brooklyn based producer, DJ and multi-instrumentalist, Malakai Linden. Drawing on a wide range of influences, his music strives to bridge a gap between electronic and acoustic spaces, incorporating sounds of real-world instruments into an eclectic brand of bass driven electronic beats. Following a pattern of organic growth, MALAKAI's live sets consist of a carefully curated and immersive journey through a multitude of musical flavors.
https://www.thisismalakai.com
https://www.facebook.com/malakaimusic/
All Ages
$5 adv or before 10pm / $10 after 10pm / Under 21: $10 All Night /// Free before 9pm for text blast subscribers
Euphonic Conceptions- Since 2006, Euphonic Conceptions has been dedicated to putting on events featuring fresh directions in music and art. The goal is to develop, support, and sustain culture that can birth groundbreaking artists and allow them and the community they represent to flourish.
Longevity Productions- is a company that thrives to bring you the best acts and all around musical experiences they can provide. Working with people in the local Northern Colorado community to bring art of all styles together. We focus on artist booking, artist management, promotion, and event facilitation.
Mindbeam Productions -A donation based company that gives back 15% of its profits from events to the community. Specializing in professional visual effects and sound production.
Party Guru Productions- Since 2010, Party Guru Productions has produced, presented, and promoted thousands of events, brands, and businesses of all shapes and sizes. Say hello and grab a handbill from one of the 100+ Party Guru promoters at every major event in Colorado and music festivals across the US featuring performances of every genre of music imaginable. From hip hop to jam bands, EDM to heavy metal, and everything in between, the Party Gurus are in the building.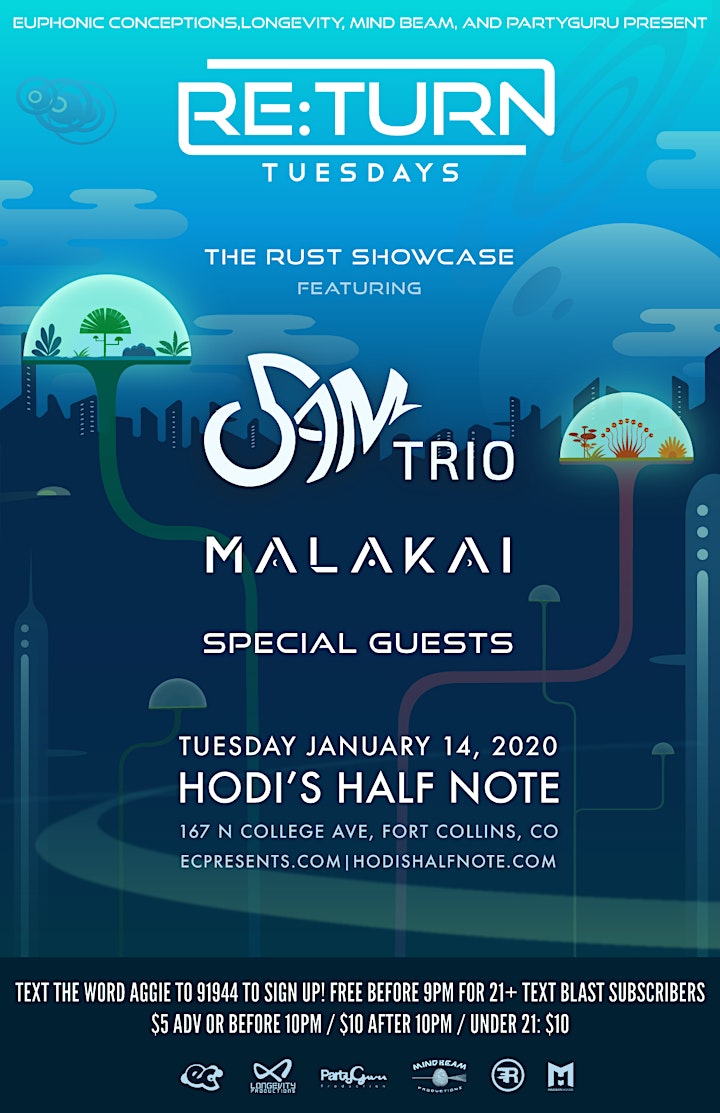 Venue Information:
Hodi's Half Note
167 N College Ave
Fort Collins, CO, 80524