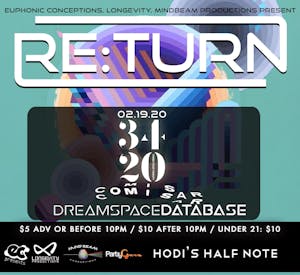 Euphonic Conceptions, Longevity Productions, Mindbeam Productions
Re:Turn feat.
3420, Comisar, Dreamspace Database
$5.00
Tickets At The Door
Re:Turn Wednesday feat. 3420, Comisar, Dreamspace Database presented by Euphonic Conceptions, Longevity Productions, & Mindbeam Productions
$5 adv or before 10pm // $10 after 10pm // Under 21: $10 All Night
All Ages
Doors at 8//Show at 830
3420 - (Three Four Twenty) is the collaborative vision of Josh Sommerfeld, Marty Muzik, & Stryker Steele. Aiming to bring the listener through an exciting musical journey through live instruments blended with your favorite genres of electronic music.
The psychedelic jam-tronica trio came together in the midst of traveling the country in the pursuit of live music, art, and the connections that are brought forth in the ever growing underground music festival scene. 3420 was then bound together officially in Colorado and is striving to take their artistic vision and experience to as many people as they can.
https://soundcloud.com/3420music
https://3420music.wixsite.com/
Comisar - Bass: the final frontier. These are the voyages of the starship Comisar. It's continuing mission: to explore funky new worlds, to seek out new rhythms and new oscillations, to boldly go where no one has gone before.
http://soundcloud.com/comisar
https://www.facebook.com/ComisarMusic/
Dreamspace Database - Best defined as an Electro-Jam Duo, Dreamspace Database are two humans and a computer combining instrumental improvisations and time bending technology to create an engaging experience of heavy jams and immersive atmospheres. Being no strangers to psychedelic grooves and progressive funk riffs, the dynamics of this duo travel from genre to genre building up jams just as fast as they melt away. They have planted some solid seeds of sounds and are working towards rooting themselves in a positive community with a powerful performance and energy that encourages everyone to enjoy themselves and grow alongside others.
dreamspacedatabase.bandcamp.com
soundcloud.com/dreamspacemusic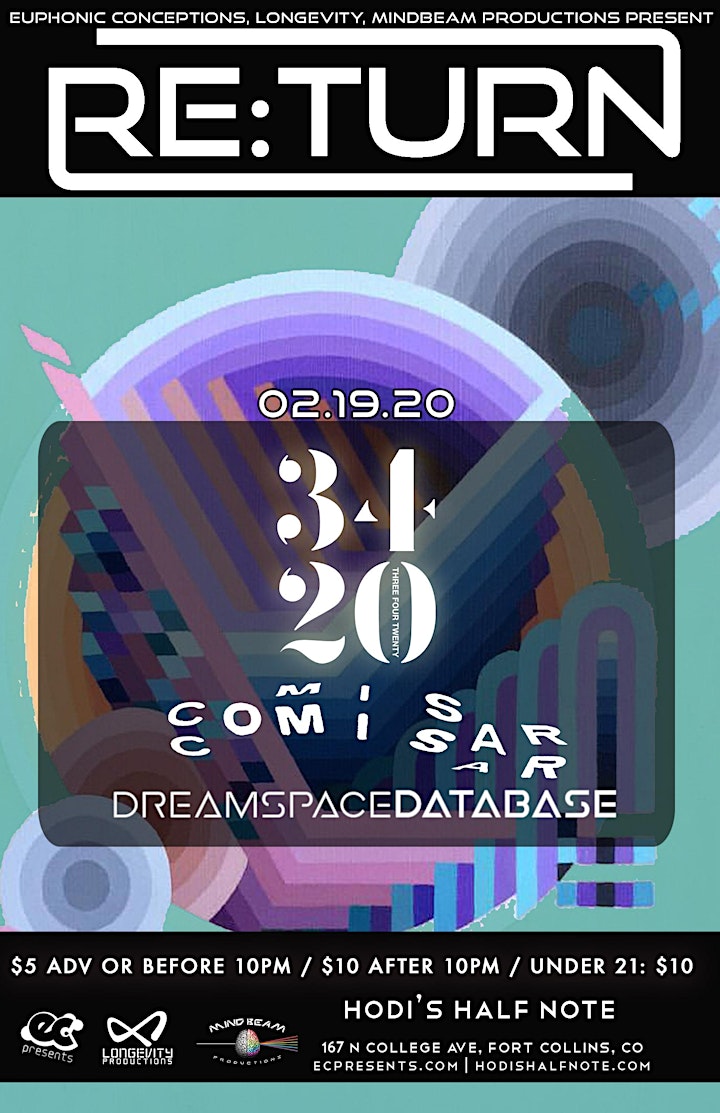 Venue Information:
Hodi's Half Note
167 N College Ave
Fort Collins, CO, 80524