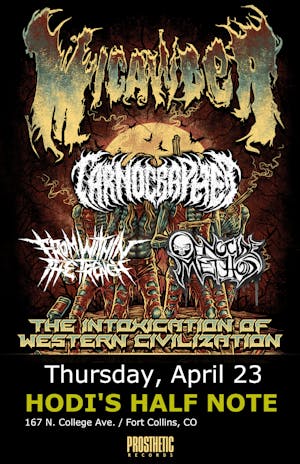 Micawber with Carnographer, Genocide Method, From Within the Trench in Ft. Collins Thursday April 23rd at Hodi's Half Note
All Ages
$10
For the past decade, Green Bay based death metallers Micawber have held onto a steadfast DIY work ethic. They've self-released two full length albums and three EPs and have completed 25 tours throughout North America and Europe, supporting Sepultura, Vader, Vital Remains and Internal Bleeding to name a few as well as appeared at countless metal festivals. 2018 will see them join forces with Prosthetic Records on the release of their third album, Beyond The Reach Of Flame, due out worldwide on May 25th.
Founding member and vocalist/guitarist, Leighton Thompson comments on the partnership, "Micawber is immensely excited to have signed with Prosthetic Records! We're looking forward to continuing our ventures of shredding, touring, partying and growing while being brought to new horizons by the label that has helped bring forth our favorite releases by bands such as Lamb of God, Gojira, Psycroptic, and Skeletonwitch."
Recorded at Carp Town Studios in Two Rivers, WI by Nick Weyers and Marc Birr; Beyond The Reach Of Flame is a diverse chunk of modern US death metal. Growling vocals, slamming riffs, twin harmonious guitar solos and blast beat drums are the base of all the tracks, but each track has a sprinkling of other metal elements including sludge, black, prog and tech, making Micawber stand head and shoulders above their peers.
Micawber will kick off the Beyond The Reach Of Flame cycle by heading to Europe in March with Internal Bleeding, Fleshgore and Sacrificial Slaughter. Upon returning, they will work on a few promotional videos and be back out on the road this spring. Even with label support, Micawber will do what they do best; trust themselves and rely on no one while making new fans and friends all along the way. They just hope the numbers of each keep increasing along with the beers in each city.
https://micawberofficial.bandcamp.com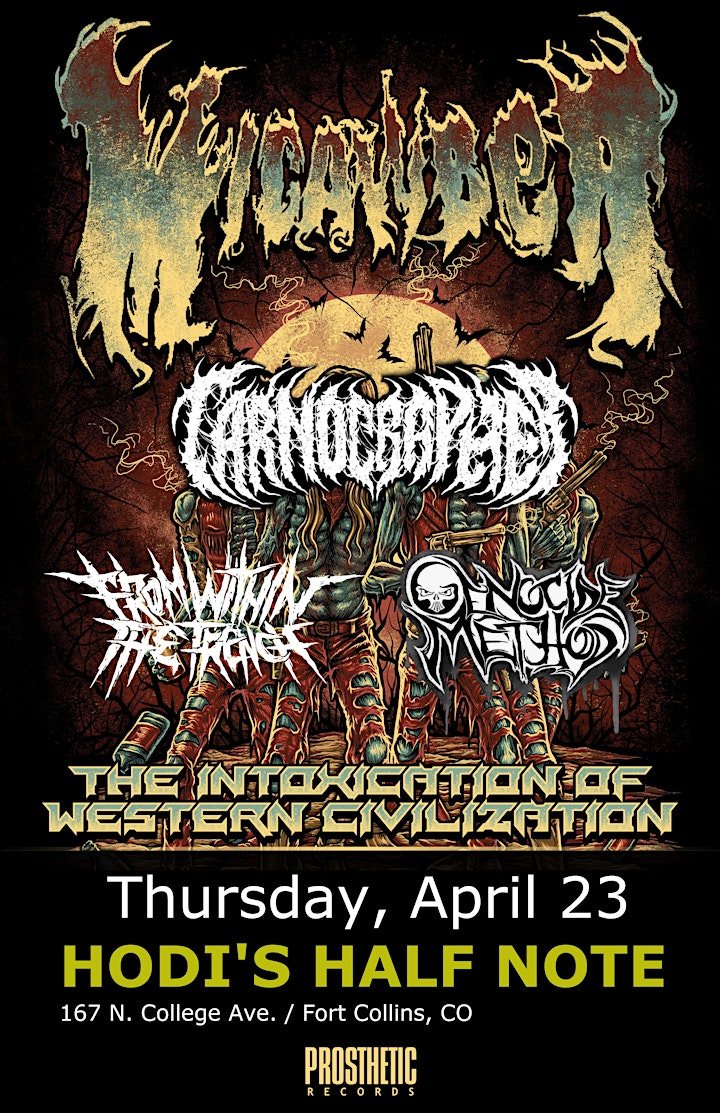 Venue Information:
Hodi's Half Note
167 N College Ave
Fort Collins, CO, 80524