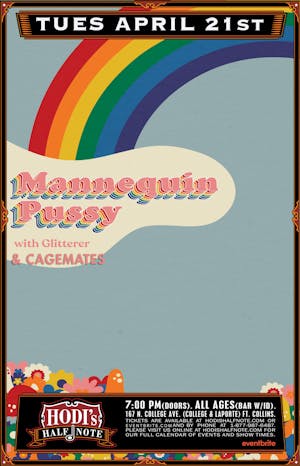 Anchors Aweigh Industries presents: Mannequin Pussy w/ Glitterer and CAGEMATES Tuesday April 21st in Fort Collins
THIS EVENT IS CANCELLED. ALL TICKETS HAVE BEEN REFUNDED
The third full-length from Mannequin Pussy, Patienceis an album fascinated with the physical experience of the body, its songs tracking the movements of mouths and hands and racing hearts, skin and spit and teeth and blood. Deeply attuned to the power of their own physicality, the Philadelphia-based band channels complex emotion in blistering riffs, thrashing rhythms, vocals that feel as immediate and untamed as a gut reaction. But throughout Patience, the Philadelphia-based band contrasts that raw vitality with intricate melodies and finely detailed arrangements, building a strange and potent tension that makes the album all the more cathartic.
The follow-up to Romantic—a 2016 release praised by Pitchfork for "combining punk, shoegaze, death metal, and more, with the ferocious push-pull energy of a mosh pit"—Patience came to life at Studio 4 in Conshohocken, Pennsylvania. In creating the album, Mannequin Pussy worked with producer/engineer Will Yip (Quicksand, The Menzingers), shaping an explosive sound that never overshadows the subtlety of their songwriting. "In the past there's been a chaotic feeling to the recording process, but working with Will put us in a different headspace," says Dabice. "It helped us show our progression over the past few years and make a very crisp-sounding record, without losing the dirtiness of what Mannequin Pussy really is."Opening with its gloriously frenetic title track, Patience matches Mannequin Pussy's wild volatility with a narrative voice that's often painfully vulnerable.
On "Drunk II," for instance, Dabice's vocals shift from fragile to furious, the track's stormy guitar work colliding with lyrics capturing the grief of post-breakup inertia. "I wrote that song one night when I was very heartbroken, afterI'd been out with friends trying to pretend like I wasn't feeling so hopeless," says Dabice. "I went home and just started playing guitar and crying, and stayed up working on that song till about four in the morning."
On the delicately sprawling"High Horse," Patience takes on a more restrained tone but still maintains a devastating intensity, with Mannequin Pussy presenting an intimate portrait of an abusive relationship ("Pushing me up against the kitchen sink/I feel your breath on me/I can taste it in my teeth").Meanwhile, "Who You Are" shifts into a brightly tender mood, assuming a classic-love-song sweetness in its message of self-acceptance. "I turned 30 as we were working on the record, and it changed my whole perspective on my life and relationships and everything," says Dabice. "'Who You Are' came from thinking about what I'd want to say to myself when I was still in my 20s and wasting so much time not believing in myself."
Recently signed to Epitaph, Mannequin Pussy found themselves newly revitalized in the writing and recording of Patience, their creative connection stronger than ever. "I'm so proud of how hard we've worked to get to this point," says Dabice. "This album sounds exactly how I've always wanted us to sound—I've never listened to something we've made and felt so inspired by it."As Dabice explains, the band's journey toward the making of Patience partly inspired the album's title."I think you have to be patient that you'll find the sound that's in your head," she says. "It's okay to take your time if you can't figure it out right away—you've got to just trust that you'll get there eventually."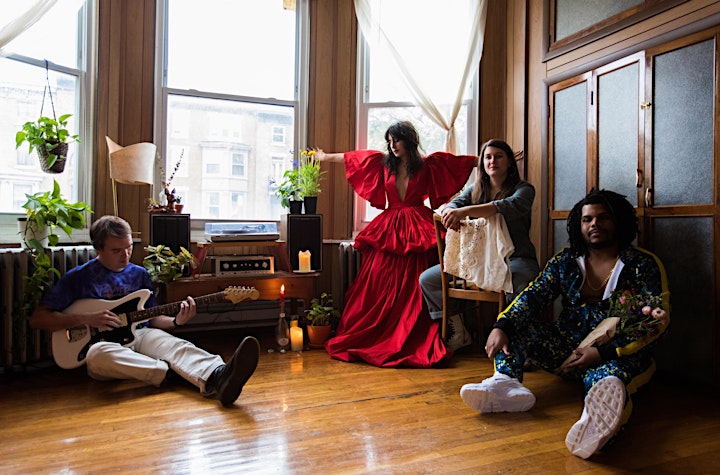 Glitterer was born in August of 2017, when the eponymous Glitterer EP appeared on Bandcamp. To some, Glitterer seemed to manifest the parallel identity, something between an alter-ego and a superego, of Ned Russin, who wrote, sang, and played every note of the EP's eight songs. Ned Russin is a New Yorker, by way of Northeastern Pennsylvania, a 29-year-old bassist and singer who made his name in music by playing in a band called Title Fight.
Glitterer features spartan instrumentation — bass, drum machine, synths, and a familiar voice — and its compositional ethos, such as the listener can grasp, lies in hyper-efficient deployment of discrete harmonic and melodic ideas, also known as verses, choruses, and bridges. The introspective but gnomic lyrics address the kinds of ontological, existential, epistemological, ethical, and moral questions one would expect might occur to a 20-something liberal-arts college student (which Ned was, at Columbia, at the time of Glitterer's release) all while wryly acknowledging the predictability of such heady questions arising under such heady conditions.
Not Glitterer, a five-song follow-up, appeared eight months later. As is suggested by the antinomic title, the newer EP is even more preoccupied with contemplating the exigencies and implications of regarding oneself and of regarding oneself regarding oneself and, of course, of regarding oneself regarding oneself regarding oneself. And, as with the first record, no song extends a second beyond what's necessary to deliver the minimally viable aesthetic and intellectual goods. One would be hard-pressed to name an artist that conveyed a higher concentration of stimulation and aural pleasure in 2017 and 2018.
Venue Information:
Hodi's Half Note
167 N College Ave
Fort Collins, CO, 80524