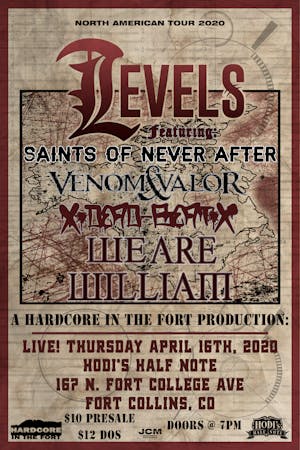 A Hardcore In The Fort Production
Levels
Saints Of Never After, Venom & Valor, xDeadBeatx, We Are William
$10.00 - $13.00
Postponed
Levels w/ Saints of Never After, Venom & Valor, xDeadBeatx, and We Are William in Fort Collins, Thursday April 16th
UPDATE: DUE TO COVID-19 THIS SHOW HAS BEEN POSTPONED TO A DATE TBD. ALL PREVIOUS TICKETS SOLD WILL BE HONORED FOR THE NEW DATE. WE APPRECIATE YOUR UNDERSTANDING. CHECK BACK SOON FOR MORE UPDATES.
All Ages
$10 ADV// $13 DOS
Levels is a djent influenced progressive metalcore band from Little Rock, Arkansas that was formed in late 2015. The band consists of Jake Sanders, Dalton Kennerly, Jager Felice, Rob Mathews and Jacob Hubbard. Their influences derive from groups such as Volumes, Novelists, Veil Of Maya, and Architects. Levels strive to make their music stand out against other bands of similar genre thorough the use of emotion filled lyrics, catchy riffs and an energetic live performance that will leave you wanting more.https://www.facebook.com/levelsAR/
Saints Of Never After is a Post-Hardcore / Punk band from Northern Colorado. Formed in early August 2015 through various Band sites, Brian Robertson, Brenden Tharp, and Jordan Persons, all craved playing music with their friends and dream of making it big one day. With creativity and God on their side, there is nothing that can stop them.
With influences in the music such as A Day to Remember, Escape the Fate, Atreyu, and Avenged Sevenfold, you definitely get a wide variety of sound from SONA that everyone can appreciate.
You can hear these various influences in songs like, "Mean to Me" from their first EP "Tentative". Their latest releases, "Goes On" and "I Stand Alone" show off both sides of S.O.N.A.'s writing spectrum perfectly. Both Pop and Hardcore elements can be fused together and create what is the familiar sound known as, Saints Of Never After.
https://www.facebook.com/SaintsOfNeverAfterOFFICIAL/
Venom & Valor - Denver Metalcore
https://venomvalor.bandcamp.com/
https://www.facebook.com/venomandvalorband/
xDeadBeatx - Colorado Straight Edge Hardcore
https://www.facebook.com/xdeadbeatxco/
We Are William -
Formed in 2017, We Are William aims to mend the gap between their favorite genres and produce a unique sound not easily pinned down by one single label.The band prepares well balanced compositions, theatrical backing tracks, powerful lead vocals and energetic live performances. We Are William has nestled itself in the Progressive Metal category for now but their are no limits to what future albums may have in store for their fans.
https://www.facebook.com/WeAreWilliamBand/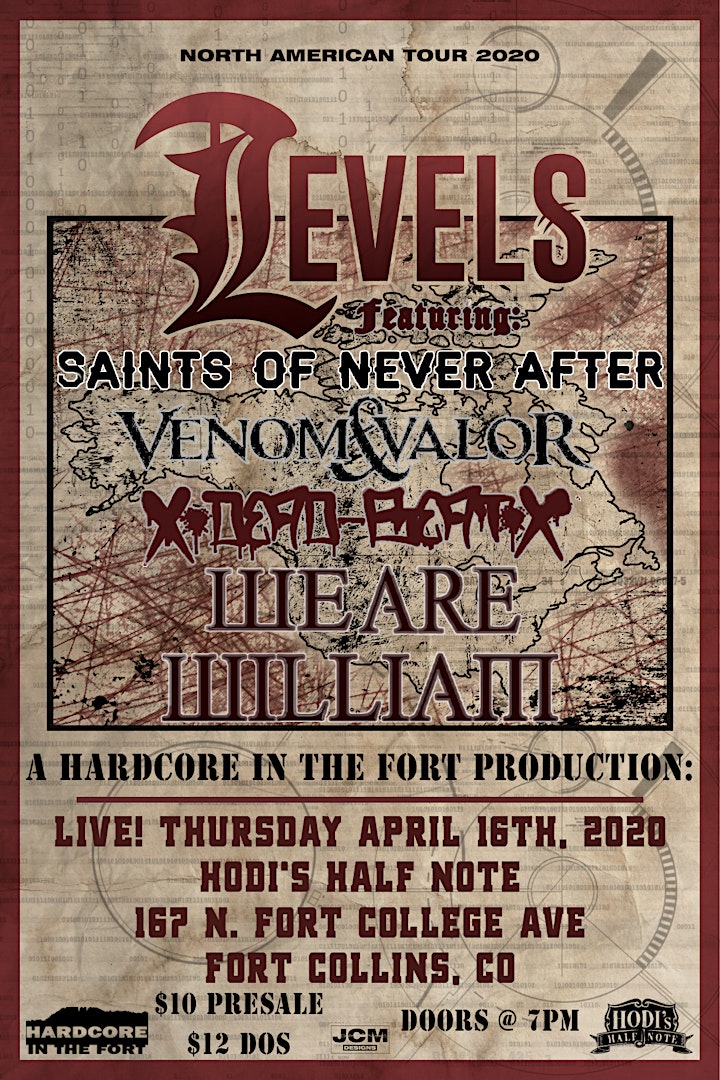 Venue Information:
Hodi's Half Note
167 N College Ave
Fort Collins, CO, 80524