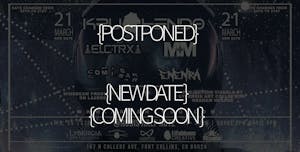 Longevity & Mindbeam Productions, Lysergia Art Collective, Q-Vents
Krushendo
ELCTRX, The Medicine Men, Comisar, Enenra
THIS EVENT HAS BEEN MOVED DUE TO CORONA VIRUS Krushendo takes over Hodi's Half Note
Presented by Longevity Productions, Mindbeam Productions, Lysergia Arts Collective, and Q-Vents
Genres: Future Bass, Dubstep, Melodic Dubstep, Downtempo, House.
Krushendo is a Colorado visual artist, bass producer, and adventurer that is looking to create experiences through vibration and love. He been producing for almost 10 years and has been playing some type of music for the past 15 years ranging from playing guitar in a few jam and metal bands to doing vocals on a couple of projects. He has jumped into the national and global spotlight by being featured on Reverbnation.com's homepage, he currently is ranked #6 on the globe and #4 in the United States for EDM.
He has shared the stage with Toy Box, Luczid, Orphic, Brothel, Homemade Spaceship, Miss Jaedha, Lucid Vision, members of the Disco Biscuits, J.wail, Jimeni, TwoScoops, Full Metal, iLLBanks, The Magic Beans, and many other Colorado local artists.
Born in Santa Monica, CA but native to the Front Range of Colorado Karlyle "Sky" Walker a.k.a Krushendo is a rising star in the Northern Colorado underground EDM scene. Mixing Midwest inspired ballad-style vocals with punchy, driven bass lines, Krushendo is a unique blend of party DJ, music producer, and artistic tour de force in Fort Collins. Friends and associates describe his style as Pretty//Dirty as in "That's pretty dirty man", because of the unique use of bells, absolutely gorgeous female-heavy vocals, and spine-shattering bass drops. His musical influences include but are not limited to Illenium, Toy Box, Said The Sky, and Sound Remedy
As a Krushendo's range covers everything from Dubstep to Drum n Bass (no kids, it's not dead) to the ever popular Downtempo. Want to chill? Check out trance-y "Golden Hour", want to rage? Sample "Fury" and hold on to your drinks. Whatever he plays, his positive attitude and energy always gets the crowd going at events or house parties.
Soundcloud: http://www.soundcloud.com/krushendo-music
Website: http://www.krushendo.com
Facebook: http://www.facebook.com/krushendofc/
Reverb Nation: http://www.reverbnation.com/krushendo
Instagram: http://www.instagram.com/karlylewalker
Elctrx - https://soundcloud.com/elctrx
The Medicine Men - https://soundcloud.com/medicine-men
Comisar- http://soundcloud.com/comisar
Enenra- http://soundcloud.com/Enenra420
16+ Show
$5 Early Bird / $10 Adv / $15 DOS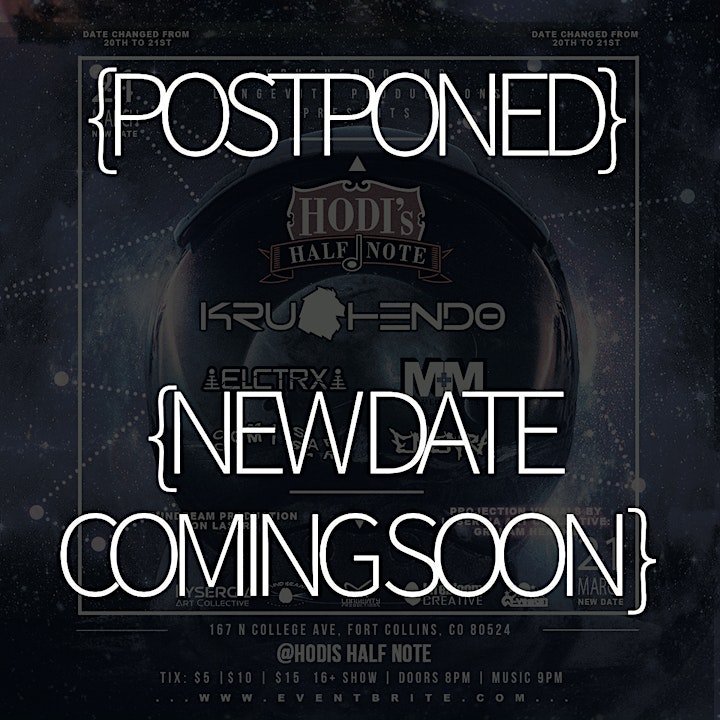 Venue Information:
Hodi's Half Note
167 N College Ave
Fort Collins, CO, 80524