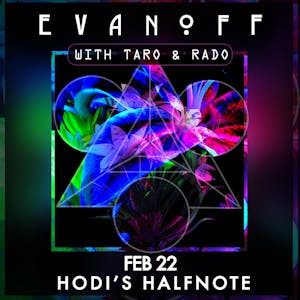 Evanoff w/ TARO and Rado in Fort Collins at Hodi's Half Note, Sat February 22nd
All Ages
8pm Doors//9pm Show
$10 ADV // $12 DOS
A staple in the Colorado music scene, Evanoff, is a guitar driven live-electronic trio. Defined by a bold live show full of sonic exploration, blending soaring melodies and emotive bass lines.
Evanoff continues to be one of the most versatile and dynamic acts in the ever-evolving electronic music scene.
"Like forsure, right? These guys are pretty f*cking chill… Totally like if Bassnectar played guitar."
Since 2017, Evanoff has obliterated festival stages all across the country including Camp Bisco, Electric Forest, Hulaween, Resonance, Euphoria, Joshua Tree, ARISE, Sonic Bloom, and more. Fueled by Coors Light, Evanoff is only just beginning.
https://open.spotify.com/artist/5XMQ9F7g4nCx2VCtrnPm7d?si=eRoQx0gJSiGpmpQ2tux68g
TARO is a new and emerging Fort Collins-based duo comprised of Cheyenne Duba (vocals/songwriting) and Steve Welhaf (guitar/production).
When Cheyenne realized that playing guitar and singing in Old Town Square would never live up to the vision she had for her music, she turned dissatisfaction into determination. She learned not only the basics of Ableton, but the potential of what digital production meant for her future sound.
After writing TARO's debut single, "Don't Tell", the pieces of her vision came into focus. She wrote the screenplay for a Fight-Club inspired music video and tuned that vision into a reality with UrbanImpression, a Denver photographer/videographer. The daring twist on the cult-classic features TARO's vice-centered themes, with a healthy dose of sex appeal.
Cheyenne's dark lyrics and catchy tunes, combined with Steve's "can't-help-but-dance-to" beats, generate a unique sound hard to place under one genre. The phrase "electronic-pop/rock" comes to mind, but elements ranging from funk to classical music have resulted in a unique crossover sound. This sound is incomparable to any other, but it draws influence from artists such as Phantogram, K.Flay, and Halsey.
http://soundcloud.com/taromusicofficial
In 2019, RADO formed and took up cause based on a mutual respect and musical admiration amongst friends in Denver's prolific music scene. The band melds together ferocious psychedelic rock music with syncopated dance grooves and stylistic melodies, while mixing in thoughtfully crafted lyrical & vocal hooks. The music of RADO is heavily centered around building improvisational jams that reach soaring and everlasting peaks.
"RADO's roots are nested deeply in Denver's jam scene; each member's eclectic background helps build a diverse yet cohesive sound. Their mutual respect to the scene and commitment to originality has propelled the band to a multi-state tour covering the mid-west and east coast. The genre mashing conglomerate of styles has something for everyone. Whether it's a high-speed four-to-the-floor psychedelic jam, or a low bpm groovy, funk section, RADO keeps the bodies moving."- Compose Yourself Magazine
Influences draw from dance, funk-rock, psychedelic, prog, jazz and a multitude of additional genres.
radoshreds.com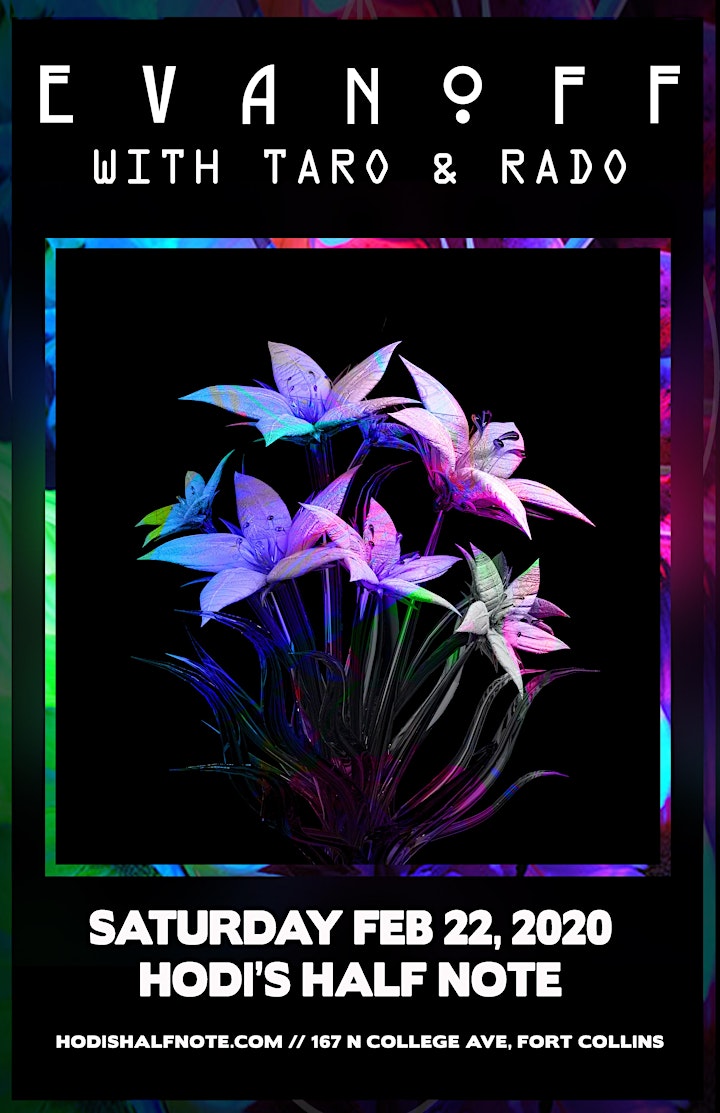 Venue Information:
Hodi's Half Note
167 N College Ave
Fort Collins, CO, 80524