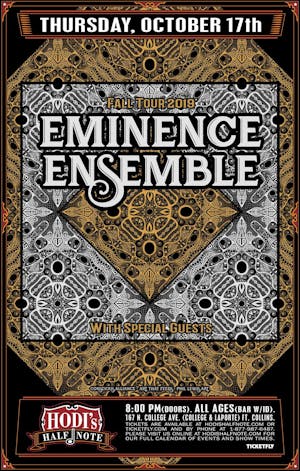 Eminence Ensemble w/ ProJect Aspect at Hodi's Half Note
This event has been rescheduled for a date TBD. We apologize for any inconvenience. All tickets will be refunded.
Since 2009, Eminence Ensemble has been building their fan-base through explosive live shows and unique genre-blending. The Colorado-based group infuses elements of Jazz, Rock, Electronic, Metal, Soul/Funk, and Hip-Hop to create intricate compositions, decorated with psychedelic improvisations. The band is comprised of six members: Tanner Bardin [Drums], Nick Baum [Percussion/Lead Vocal], Johnny Bosbyshell [Keyboard/Synth], Zac Flynn [Bass/Synth/Vocals], Taylor Frederick [Guitar/Vocals] & Justin Neely [Guitar/Vocals], making a solid framework for a huge sound and a whirlwind of creativity. Gaining their following first as a live band, Eminence Ensemble learned to capture the crowd with high-energy performances and large-scale production, with a light show just as dynamic as the music. And although they mainly thrive in the Jam Scene, the band is recognized by fans of all genres. Eminence Ensemble has become known for their complex song structures, heavy bass-drops, synchronized guitar-lines, dense vocal-harmonies, and powerful dual-percussion, both on-stage and in-studio. The sextet focuses most on creating a one-of-a-kind show for their followers. Each set list is carefully constructed to capture the vibe of the venue and the energy of the audience. With over 400 shows under their belt, Eminence Ensemble has proven their worth in the scene, playing festival slots at Summer Camp, Electric Forest, Camp Bisco, Wave Spell, Euphoria, The Werkout, and more. In their most recent release 'Real News' (2019) Eminence Ensemble truly pinpointed their studio sound. The full-length 13-song LP exemplifies the diversity of the band, weaving in and out of genres while still remaining cohesive. Their thought-provoking lyrics allow the listener to dive deep into the music, while the music itself paints the picture. From radio-ready singles to eight-minute long musical odysseys, 'Real News' is a testament to the constantly evolving world we live in.
"In 2008, Jay Jaramillo developed ProJect Aspect, a progressive new paradigm for exploring music and engaging with the community. With over 12 years of dedicated musical experience, three of which were spent producing electronic music, Jaramillo has honed a highly developed style instantly recognizable and uniquely his own. With a pair of the fastest hands in the business and the unbridled passion of an inspired genius, Project Aspect wears his heart on his sleeve and lays his soul bare in every track he creates. His style encompasses everything from stunningly gorgeous electronic anthems featuring sultry female vocals to explosive, window-shattering, dance-floor bangers. Project Aspect is rapidly garnering support throughout the national electronic community and has shared the stage with artists such as STS9, Feed Me, Datsik, EOTO, MartyParty, VibeSquaD and Nit Grit. Within the past 2 years Jay has released 4 Full Length albums on forward thinking labels such as 1320records, Simplify, and Gruntworthy, one of which being a collaboration album with fellow Colorado comrade Unlimited Gravity, 2 Remix albums on Bandcamp as well as being featured on multiple Compilation albums such as Subsynthesis' 'Bass From Above and Mimi Page's 'Harmonious Heartbeats: The Mimi Page Remixes'. With a personal music library as expansive as the spectrum of human emotions, Jay has orchestrated his musical journey around providing an exceptionally unpredictable, unprecedented live performance. Project Aspect is only just beginning, and he has already performed at several noteworthy sites such as Sonic Bloom Festival, Wakarusa Music Festival and Global Dance Festival at the legendary Red Rocks Ampitheatre in Morrison Colorado. Each sets is composed of entirely original material, and every show is an utterly inimitable occasion of phenomenally relevant artistic expression and creative brilliance."
-Ethan Baer (dubstep.net)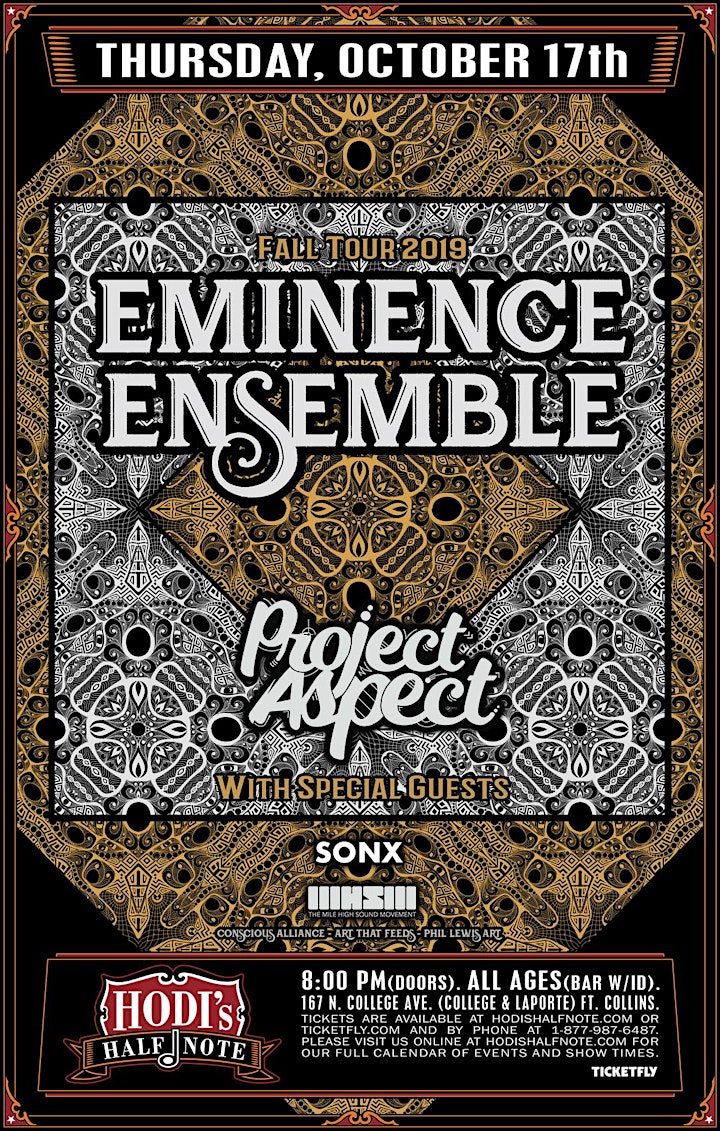 Venue Information:
Hodi's Half Note
167 N College Ave
Fort Collins, CO, 80524