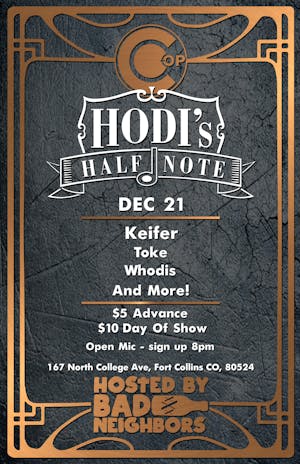 Hosted by Bad Neighbors, this monthly Hip-Hop event provides space for locals and up-and-coming lyricists to share their bars.
Co-Op is a monthly Hip-Hop event at Hodi's Half Note hosted by Bad Neighbors. The event is meant to build the Hip-Hop community in Northern Colorado. Each month will have one headlining acts and three supporting acts, as well as a creative writing exercise called "Celebrity Deathrap" where two contestants will battle each other as different celebrities. In addition, there will also be an open mic at the end of the night where the best performance gets a slot on next months lineup! Open mic sign ups are limited to 15 people, with one song each, and will take place at the event between 8pm and 10:30pm. If you would like to play a set, participate in Celebrity Deathrap, or have any questions about the open mic or event itself, contact Bad Neighbors via email (BadNeighborsHipHop@gmail.com) or any social media platform!
Keifer: https://soundcloud.com/keifer_crader
Toke: Hailing from the Rocky Mountains and portraying the Colorado life-style to the fullest. TOKE is not just a person, artist, name or symbol. It is a society that continues to grow strongly in the hip-hop community and culture. A society that refuses to live in fear, to love with passion and spread the knowledge of self elevation daily. T.O.K.E. (Tomorrow Only Know Elevation). TOKE presents a unique image which includes, a positive message, edgy character and belief that people united are stronger. Mix hippie and thug together with some electronic/ hip-hop/ trap beats and you will have the sounds of TOKE and the vibe that Colorado has to offer. https://www.pangea-music.com/toke
Whodis: https://soundcloud.com/howyougetmynumber
More TBA!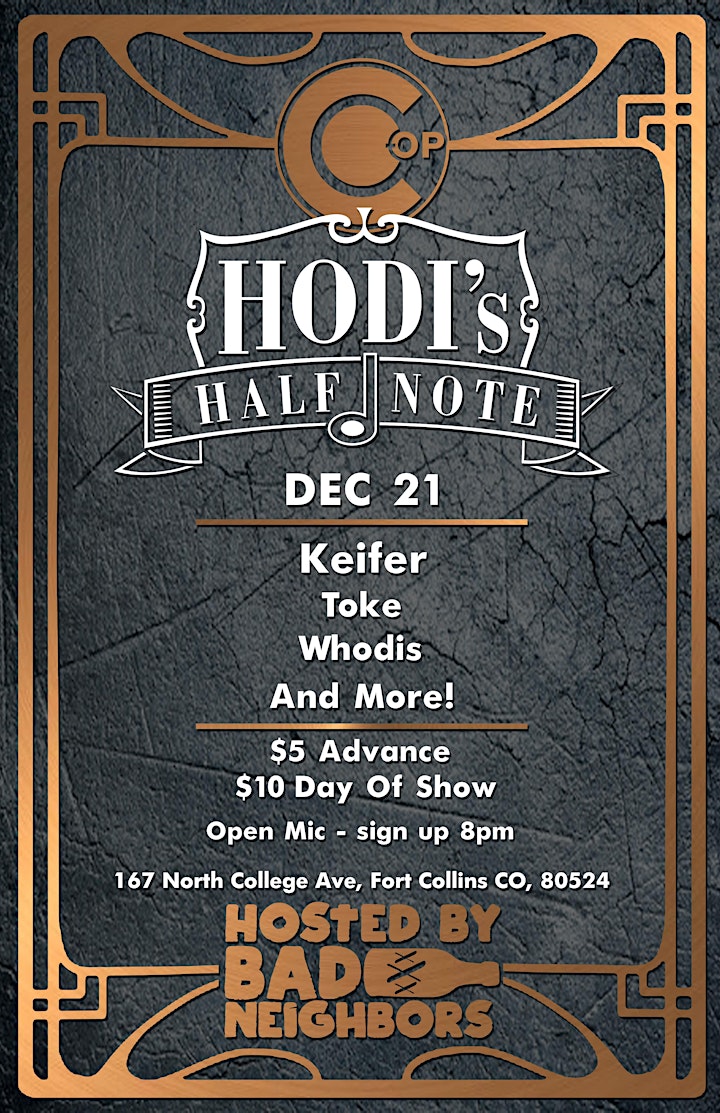 Venue Information:
Hodi's Half Note
167 N College Ave
Fort Collins, CO, 80524