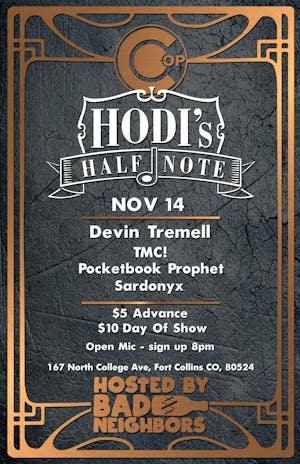 CO-OP feat.
Devin Tremell
TMC, Pocketbook Prophet, Sardonyx
$5.00 - $10.00
Tickets At The Door
Hosted by Bad Neighbors, this monthly Hip-Hop event provides space for locals and up-and-coming lyricists to share their bars.
Co-Op is a monthly Hip-Hop event at Hodi's Half Note hosted by Bad Neighbors. The event is meant to build the Hip-Hop community in Northern Colorado. Each month will have one headlining acts and three supporting acts, as well as a creative writing exercise called "Celebrity Deathrap" where two contestants will battle each other as different celebrities. In addition, there will also be an open mic at the end of the night where the best performance gets a slot on next months lineup! Open mic sign ups are limited to 15 people, with one song each, and will take place at the event between 8pm and 10:30pm. If you would like to play a set, participate in Celebrity Deathrap, or have any questions about the open mic or event itself, contact Bad Neighbors via email (BadNeighborsHipHop@gmail.com) or any social media platform!
m.soundcloud.com/devintremell
https://soundcloud.com/sardonyxdj
soundcloud.com/taylor-mccullough
Venue Information:
Hodi's Half Note
167 N College Ave
Fort Collins, CO, 80524