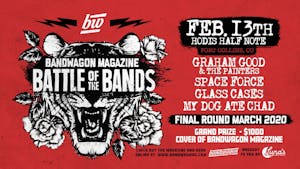 presented by BandWagon, The Crew Presents, and Luna's Tacos & Tequila
BandWagon Battle of the Bands
Graham Good and the Painters, Space Force, Glass Cases, My Dog Ate Chad
$10.00
Tickets At The Door
BandWagon Battle of the Bands series Thursday Feb 13th in Fort Collins
BandWagon, BandWagon Magazine, The Crew Presents, and Luna's Tacos & Tequila.
7:00 Doors | 7:30 Showtime | All Responsible Ages Permitted | Photo ID Required For Entry
It's the annual BandWagon Magazine Battle of the Bands! Northern Colorado's best local bands compete for eternal glory, the grand prize of $1,000, and the cover of BandWagon Magazine. Bands must compete in one preliminary round and then the final round which will take place in March 2020.
BandWagon Magazine is Northern Colorado's premier independent arts and entertainment magazine since 2011. We distribute 15,000 copies each month and consistently cover national and independent local artists. For the past 9 years, BandWagon has held an annual Battle of the Bands. Past winners include local bands like Slow Caves, The Burroughs, Its Just Bugs, and The Great Salmon Famine.
Preliminary rounds will take place 2/1 and 2/29 at the Moxi Theater in Greeley, and 2/13 and 2/28 at Hodi's Half Note in Fort Collins. One band from each night will move onto the final round in March. The battle is scored by a combination of judges and crowd voting.
The celebrity judges, composed of local musicians as well as folks affiliated with organizations like BandWagon Magazine, Moxi Theater, The Fort Collins Music District, Z2, and Mishawaka Amphitheatre, will be filling out score sheets that award bands for several categories including originality, professionalism, crowd participation and response, and the quality of performance.
Thursday Feb 13th:
Graham Good & The Painters
Space Force
Glass Cases
My Dog Ate Chad Band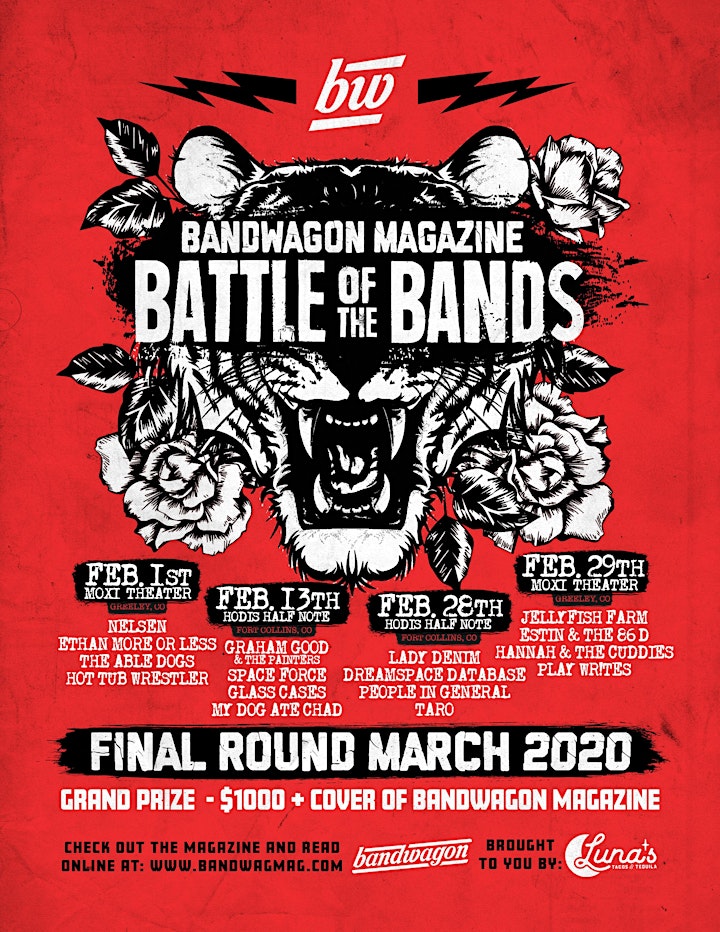 Venue Information:
Hodi's Half Note
167 N College Ave
Fort Collins, CO, 80524